Pressure Cooker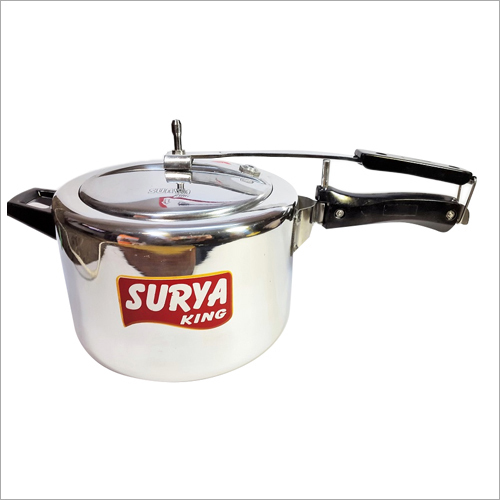 Pressure Cooker
Product Description
A pressure cooker is a specialized cooking appliance designed to cook food quickly and efficiently using the power of steam pressure. It consists of a sturdy, sealed pot with a locking lid that creates a tight seal when cooking. Pressure cookers are commonly made of stainless steel or aluminum and come in various sizes and designs.
Here's a detailed description of the key components and how a pressure cooker works:
Pot: The main body of the pressure cooker is typically a durable and heat-resistant pot made of metal, often stainless steel or aluminum. This pot is where the food is placed for cooking.
Lid: The pressure cooker's lid is an essential component that locks tightly onto the pot to create a sealed environment. It often has a rubber or silicone gasket to ensure an airtight seal.
Pressure Regulator: Most pressure cookers have a pressure regulator, usually in the form of a weighted valve or a spring-loaded valve, which helps maintain and control the internal pressure during cooking.
Safety Features: Modern pressure cookers are equipped with safety features such as pressure release valves, locking mechanisms, and built-in safety systems to prevent accidents or excessive pressure build-up.
Handles: Pressure cookers come with handles on both the pot and the lid, making it easier to handle and transport the cooker, especially when it's hot.
Control Mechanisms: Some pressure cookers have advanced control mechanisms, including digital timers, pressure settings, and cooking presets for specific types of food.
Here's how a pressure cooker works:
Sealing: Before cooking, you place your ingredients inside the pot and add a suitable amount of liquid, typically water or broth. The lid is then locked in place, creating an airtight seal.
Heat: The pressure cooker is placed on a heat source, such as a stovetop or an electric burner. As the liquid inside the pot heats up, it begins to produce steam.
Pressure Build-Up: Because the cooker is sealed, the steam cannot escape. As the steam pressure builds up inside the pot, it raises the temperature and pressure within the cooker.
Cooking: The increased pressure and temperature significantly accelerate the cooking process. Foods that would typically take a long time to cook, such as tough cuts of meat or dried legumes, can be prepared much more quickly in a pressure cooker.
Pressure Release: When the food is done cooking, you can release the pressure by carefully opening the pressure release valve or using the quick-release method (if available). This allows the steam to escape, lowering the pressure inside the cooker and making it safe to open.
Pressure cookers are popular for their ability to reduce cooking times, preserve nutrients in food, and tenderize tough cuts of meat. They are versatile appliances that can be used for a wide range of dishes, from soups and stews to rice and beans, and even desserts. However, it's important to follow safety guidelines and manufacturer instructions when using a pressure cooker to ensure safe and effective cooking.