Gas Toaster Manufacturer in Delhi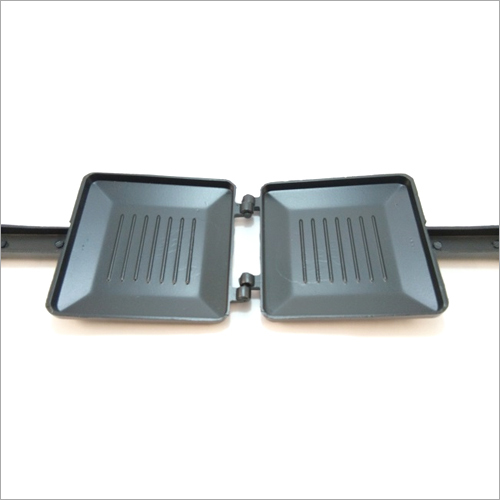 Gas Toaster Manufacturer in Delhi
Price And Quantity
Product Specifications
Residential and Commercial Use

Aluminum Alloy
big size bread for hotels

Hotel Home
Product Description
A gas toaster is a kitchen machine that involves an immediate fire from a gas burner as the intensity source to toast bread cuts. It is a straightforward and effective approach to toast bread without the requirement for power rapidly. Gas toasters are well known in locales where gas ovens are generally utilized for cooking. When utilized accurately and with legitimate precautionary measures, gas toasters are protected to utilize. Be that as it may, similar to any open fire cooking technique, there are chances related with utilizing gas ovens. Continuously keep security rules, and never leave the toaster unattended while being used. Continuously allude to the producer's directions and security rules for your particular gas toaster model to guarantee protected and proficient use.
How a Gas Toaster Functions:
Development: A gas toaster commonly comprises of a metal casing with spaces to hold the bread cuts. The casing is intended to hold the bread safely while it is toasted.
Putting the Toaster on Gas Oven: To utilize the gas toaster, you put it straightforwardly on a gas oven burner. The toaster's edge ought to be situated over the fire.
Toasting Cycle: Turn on the gas oven burner, and the fire will ascend through the spaces in the toaster's casing, straightforwardly toasting the bread cuts put inside.
Flipping the Bread: After a specific time (contingent upon your ideal degree of toasting), you really want to painstakingly flip the bread cuts utilizing utensils or one more reasonable instrument to guarantee the two sides of the bread are equally toasted.
In any event, Toasting: To accomplish in any event, toasting, you might have to change the fire level or move the toaster marginally to guarantee the whole surface of the bread is presented to the intensity.
Eliminating the Toast: When the bread arrives at your favored degree of toasting, switch off the gas oven, and eliminate the toasted bread utilizing utensils or a comparable instrument to try not to consume yourself.
Benefits of a Gas Toaster:
No power expected: Since it involves a gas oven as the intensity source, a gas toaster is valuable during blackouts or in places with restricted power access.
Speedy toasting: Gas toasters can toast bread rapidly, making them a helpful choice for occupied mornings or when you want a quick bite.
Convenient: Gas toasters are lightweight and simple to move around, making them reasonable for open air use during setting up camp or picnics.
Safety Considerations:
Continuously practice alert while utilizing a gas toaster on a gas oven. Ensure the toaster is steady and doesn't wobble to keep away from mishaps.
Watch out for the bread while toasting to keep it from consuming or bursting into flames.
Be cautious while dealing with the toaster or the toasted bread, as they will be hot. Use broiler gloves or reasonable devices to safeguard your hands.
Likewise with any kitchen machine, it's crucial for read and adhere to the maker's directions and security rules for utilizing a gas toaster successfully and securely.
FAQs of Gas Toaster:
Could I at any point utilize a gas toaster on an electric oven?
No, gas toasters are intended to be utilized explicitly on gas ovens. Utilizing a gas toaster on an electric oven can be hazardous and may harm the toaster.
How would I change the toasting level on a gas toaster?
Gas toasters don't as a rule have movable toasting settings like electric toasters. To control the toasting level, you really want to screen the bread intently while it toasts and flip it when it arrives at your ideal degree of doneness.
Could I at any point toast various kinds of bread in a gas toaster?
Yes, you can toast different kinds of bread in a gas toaster, like cut bread, bagels, buns, from there, the sky is the limit. Nonetheless, thicker cuts might require somewhat longer toasting times.
Is it protected to leave the gas toaster unattended while toasting?
It isn't prescribed to leave the gas toaster unattended while it is on the gas oven. Continuously watch out for the toasting system to forestall consuming or any potential wellbeing dangers.
How would I clean a gas toaster?
Gas toasters are for the most part simple to clean. Permit the toaster to cool totally prior to cleaning. You can wipe the toaster's edge with a moist material and gentle cleanser. Try not to lower the toaster in water or utilizing grating cleaning materials.
Might I at any point utilize a gas toaster inside?
Yes, you can utilize a gas toaster inside, yet guarantee that the region is very much ventilated. Gas ovens produce carbon dioxide and dampness during ignition, so involving the toaster in a very much ventilated region is fundamental for security.
What is the estimated toasting time in a gas toaster?
The toasting time in a gas toaster can differ contingent upon the intensity of your gas oven and the ideal degree of toasting. By and large, it might require 1 to 3 minutes for every side to accomplish a brilliant earthy colored toast.
Might I at any point involve a gas toaster for other cooking undertakings?
Gas toasters are planned explicitly for toasting bread cuts and are not appropriate for other cooking assignments. They are not planned for warming or preparing different sorts of food.
Could I at any point involve a gas toaster for setting up camp or open air cooking?
Yes, gas toasters are lightweight and convenient, making them appropriate for open air cooking, including setting up camp, picnics, or when you have restricted admittance to power.