Welcome to Surya Metal Industries
Surya Metal Industries has been trusted by customers as a manufacturer and supplier since its establishment because of the quality that it deliver to them in the form of products such as MS Surya Non Stick Sandwich Gas Toaster, Hot Insulated Lunch Box, Stainless Steel Kitchen Chimney, etc. The support of the modern facilities and strong team of professionals help our venture to bring the best for clients and impress them to the fullest. Our offerings are the epitome of excellence because of which buyers prefer us over other companies and rate us high.
We have come a long way because of our customer-driven policies, transparency and other amazing attributes of our company. Our focus is always to bring the best for clients and constantly improvise our goods, this business sense sets us apart from our competitors.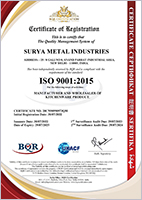 Read More